INNOVATION !
A hybrid approach by coupling a photovoltaic solution to your Polytropic swimming pool Heat pump
Reduced electricity bill and energy savings
PolySolar Energy system is a kit of 1 to 7 photovoltaic panels with microinverters and a communicating gateway box
By converting solar radiation into electricity, each photovoltaic panel optimally supplies the pool heat pump with up to 90% of the required power (depending on the number of panels, exposure and geographical location), with the remaining consumption being covered by the conventional electricity grid.
The Gateway on-board energy management system then increases the self-consumption rate: the heat pump switches on, converts the solar energy into heat and increases the water temperature.
As soon as the pool water has reached 28°, the surplus energy production supplies the rest of the equipment in the pool house, but also in the house! Nothing is wasted!
Electricity consumption is then optimised by partially freeing itself from the grid and allowing self-production and self-consumption.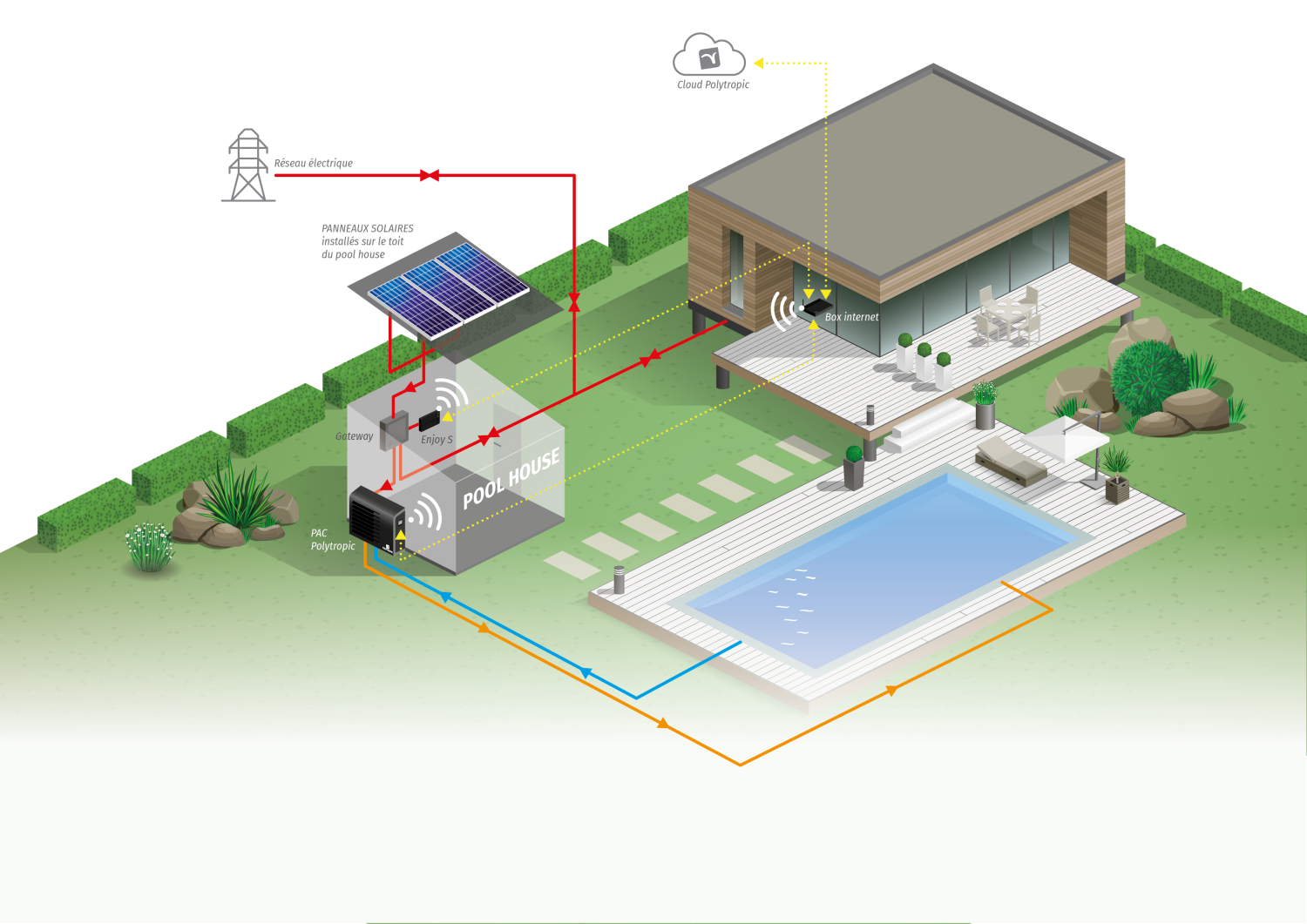 Your benefits
FINANCIAL GAIN
Our Polysolar Energy System can produce up to 90% of the energy required to drive the Swimming pool Heat pump. When the desired set point temperature has been achieved, the energy now generated is used to drive other equipment within the filter plant and so contributes to our renewable Global approach.
Performance
High efficiency Solar cells capturing and converting the entire photovoltaic yield.
EASE OF INSTALLATION
'Plug & Play' Installation on any roof type or in a garden with exposure to the South. The kit connects electrically with ease-electrical clearance is required
GARANTEE
French manufacturer, 20 Year guarantee on product + further 5 Year extension when the guarantee has been activated. 25 Year performance guarantee on the Photovoltaic yield.
THE APP
Thanks to Polyconnect 2.0, power generation and consumption can be viewed in real time