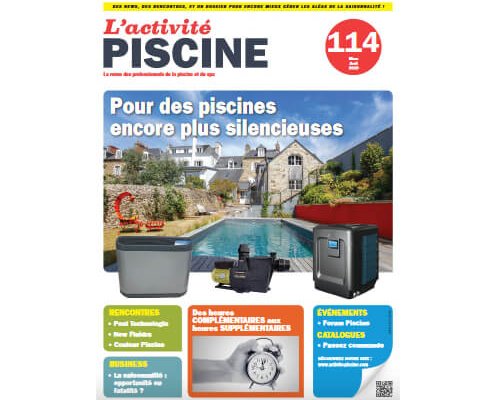 POLYTROPIC Master-Inverter and Indoor heat pumps are in the "For even more silent pools" special in the latest issue of the Activité Piscine magazine. 
When the Inverter technology and heat pump installation inside the pool house proposed by POLYTROPIC POLYTROPIC allay the fears of users over the issue of noise pollutions and problems with neighbours.

"Family pools are highly appreciated places to relax and have fun, but in some circumstances they can also be a source of conflicts with neighbours. […] It would be difficult to force children and teenagers to be calmer: on the other hand significant progress has been made on equipment and even more silent appliances are proposed by manufacturers.
[…]
Inverter technology
Still confidential just a short while ago, Inverter technology is becoming more widespread and is available from most manufacturers. The interest of Inverter technology is that it optimises the compressor using set points and the temperature, while limiting the start and stop phases. The nearer the pool temperature to the set point, the slower the heat pump will run. Electricity consumption, the sound level and component wear and tear are thus reduced. As for the sound level, at low speeds the reduction with an Inverter machine can be significant. As for an On/Off heat pump, it always has the same sound levels when running.
Indoor installation
Another possibility is to select an "Indoor" heat pump to install inside the pool-house. The pool-house then becomes sound insulation. Another advantage of Indoor heat pumps is that they do not require any wintering as they are in a frost free location.


Check out all our silent Master-Inverter and Indoor pool heat pump lines.