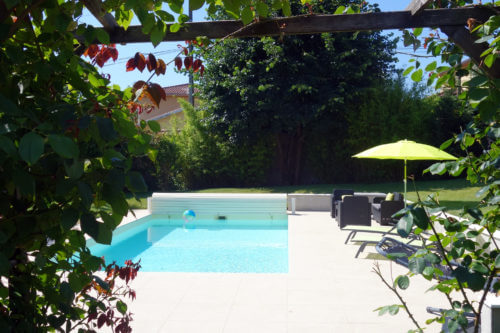 Example of a reference:
This heated private pool located near Lyon, drew our attention.
After a few years maintaining an ageing above-ground pool, a couple of young pensioners had dreamt of installing a functional and modern pool in harmony with their garden surrounded by vegetation.
Often present but always busy, the owners wanted an easy to care for pool for simpler bathing during the season.
"Having a pool is a lot of work. We were looking for a turnkey solution and an automated "no hassle" system." says the owner Daniel B.
They called on a pool professional in the region to build their 4 x 8 m poured concrete pool with automatic safety cover in which everything is remotely controlled.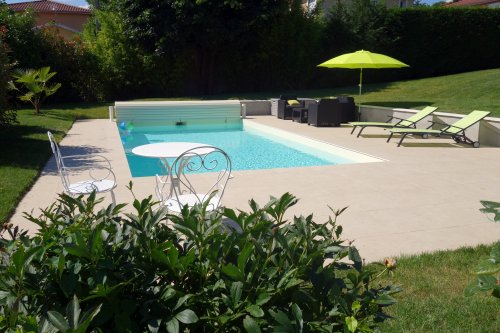 This heated, automated and easy to care for pool blends perfectly into its environment.
Extending the bathing season
The objective: easy to use, bathing from April to October and almost no maintenance.
Swimming pool in the morning and leisure pool with the grandchildren in the afternoon, cold water is out of the question! A heating solution was essential to extend pool use with water at 28°.
An Advance S 8 kW heat pump from POLYTROPIC was installed near the pool house without harming the garden and pool aesthetics.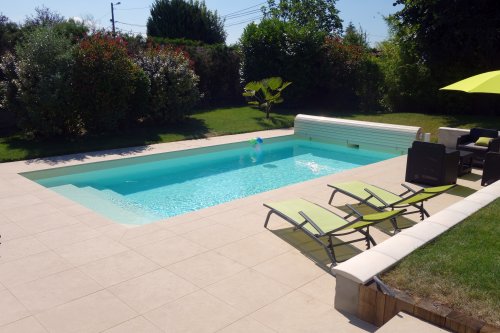 "I was worried about the noise the heat pump could generate, but it is very silent and goes unnoticed, well integrated into the garden. As for the cost, I calculated to see if my electricity bill was going to take off: it was minimal."
A stand-alone water treatment system
The Master SALT electrolysis systems and Master PH automatic pH regulation systems from POLYTROPIC combined with a Redox sensor were installed to disinfect the water and avoid manual checks and adjustments.
« "It's a genuine plus, not having to use chlorine tabs any more while having water that's always clean and soft. Both young and old appreciate it. And I don't have to do anything!"
A connected solution
Thanks to the installation of the two connected boxes, all this pool's functions have been centralised and are displayed in real time by the Polyconnect Pro application from POLYTROPIC: water treatment, heating system, filtration, lighting…
"Until now I haven't had the slightest break down or problem, and if I had, I know the reaction would be quick, because my installation is remotely monitored by the manufacturer. Me and my pool professional can view all the parameters on the phone!"
"We are very happy with the result and the professionalism"
  "Our pool professional supplied us affordable and quality equipment. It's the pool made easy. In fact, I recommended our pool professional to our neighbours who are thinking of digging their pool".
Check out the Advance pool heat pump line Advance here and the exclusive POLYTROPIC Polyconnect Pro automated pool management system here
For more information about the Master water treatment system line, feel free to contact us! !