Where should my pool heat pump be placed?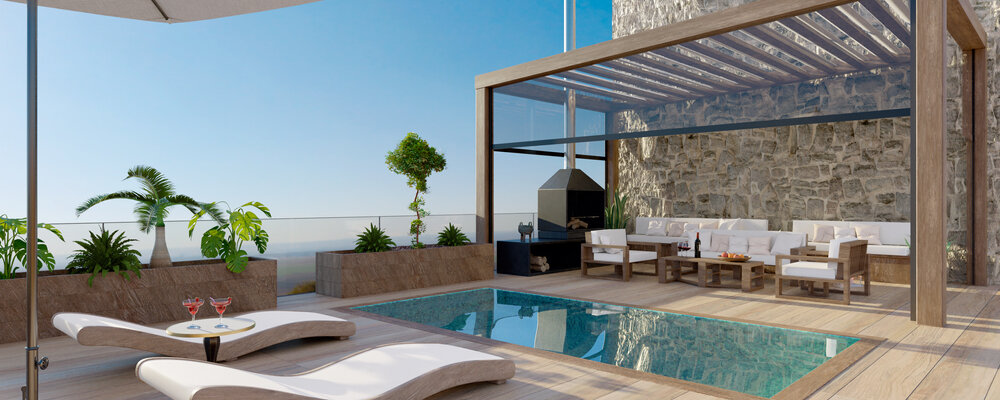 You have just taken the plunge: you are about to equip your pool with a heat pump and you have many questions.
Where should I place my pool heat pump for best performance?
What do I need to know about the installation of my heat pump?
Polytropic has put together for you everything you need to know about the ideal location of a pool heat pump:
Where to place your pool heat pump?
A pool heat pump (except for special models) must be placed outside at a distance of more than 2.5 meters from the pool. In addition, other distances around the heat pump must be respected:
1 meter (30 cm minimum) of free space in front of the vertical air intake grilles, usually at the back.
3 meters at the fan outlet at the front of the heat pump on a space completely free of any obstacle.
Allow space around the heat pump for service and maintenance.
Here is a diagram to know how to properly position your pool heat pump: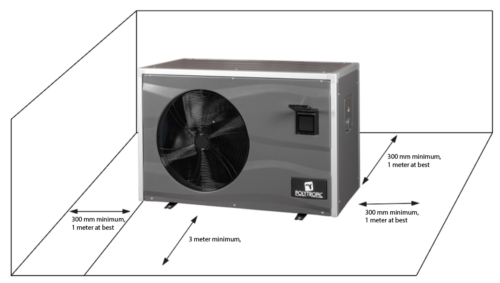 You should also be careful not to place your pool heat pump near anything that could damage it in the short or long term.
An improperly positioned heat pump can result in reduced performance and even pose a risk to your family. For example, it should not be placed under a tree or near :
Water sprays/sprays or runoff of water or mud.
A source of heat or flammable gas.
High frequency equipment.
From a place where it would be subject to snow accumulation.
Finally, be sure to trim surrounding vegetation so that it does not encroach on the heat pump.
Our additional tips for orienting your pool heat pump
Another aspect not to be overlooked is that the installation can have an impact on the noise level experienced. Therefore, it is important to consider the following points to find the best location for your pool heat pump:
Do not install it under a window.
Do not point the fan at your neighbors or at your windows.
Install the heat pump in an open space, as sound waves reflect off surfaces.
You can also add a pair of "big foot" supports under your heat pump so you don't need a concrete slab. These anti-vibration rubbers, made from recycled tires, also help absorb vibrations.
Does the location have an impact on the performance of the heat pump?
The principle of the heat pump is based on an exchange of heat between the air and the water. The heat pump captures the calories present in the air via the vertical air intake grids (the exchanger) and releases them into the water of your pool. This is why it is important that the air captured by the exchanger is not recycled, because the cold air that comes out of the heat pump is poor in calories.
This is why the distances stated in this article must be respected in order to prevent the heat pump from suffocating and the COP from dropping.
Polytropic heat pumps: heat pumps adapted to all configurations
Polytropic accompanies you in your pool projects and uses its expertise to offer you a wide range of products adapted to your needs. Our heat pumps are equipped with PolySmart Control and regulate themselves their power to adapt to the needs of your pool according to the water temperature and the ambient temperature. In addition, the standard sound insulation and the variable speed of the compressor and fan ensure an extremely low noise level (certified by the independent French laboratory CTTM). Finally, all our heat pumps are equipped with Full-Inverter technology and low-impact refrigerants such as R32 or R290 on the CARE290 range to guarantee you the best energy efficiency.
However, if you do not have enough space to install a conventional heat pump, Polytropic offers solutions adapted to reduced clearances:
Finally, we remind you that this article is purely indicative and that the installation and connection of your pool heat pump must be done by a professional.
The location of your pool heat pump is critical
The location of your pool heat pump is crucial. Indeed, a well done installation is the assurance of :
Optimized energy performance
A heat pump that lasts over time
A low noise level
A safe experience